The main goal of Manthan's Educational Programmes to provide educational opportunities and child care options children, women, adolescent girls and youth from marginalized, backward and excluded communities in the region. Through its night schools, creches, girl's school, bridge courses, competition coaching courses, vocational training courses and village women's schools Manthan aims to increase education levels among marginalized and excluded communities. Manthan believes that this will create a potential and capacity among weaker sections of society by enabling these sections to gain access to employment and bridge the growing gap between the rich and the poor. It aims to facilitate a healthy space and environment for education through creative pedagogies of learning.
The Baal Sansad is an initiative of Barefoot College, Tilonia that emphasizes children's power to guide and govern their own lives responsibly through the Children's Parliament activity. This makes the children aware of the powers and processes of a parliamentary democracy.
The night schools are managed through the Baal Sansad. All children in the night schools vote to select members of the parliament who in turn vote to elect the Prime Minister and constitute a Cabinet of Ministers. The members of parliament visit the night schools to inspect the functioning and identify the needs and challenges of the children and their society. They also evaluate the conduct of the teachers. Meeting are held every month to discuss the issues of each night school. From 1983 (SWRC days) till date, Manthan has established 45 night schools in 30 villages, directly impacting 3000 children in the area. Presently, we runs 6 night schools in 6 villages for around 160 children.
Educational tour : In 2018, Students along with alumni were taken for a group exposure to various places of historical importance in Jaipur. 6 school teachers accompanied them.
Children's Parliament : In Every Academic Session Children Parliament Elections take place. For the coming 2020 – 2021 session, Election was held in February 2020. With the aim of providing the understanding of the democratic system in children to the values of better democracy to the children, in which the children elected their candidates, voted for them. New Members of Parliament elected the Prime Minister, Nirma of 7 th class won and took the oath of Prime Minister along with other MPs.
Parents Teachers Meeting : Every month Parents and Teachers Meetings have organized. Last, parent-teacher meeting was organized on December 26, 2019 to update the parents about the progress of their kids. The parents were also informed about the new initiatives like digital learning and IT class, and the inclusion of library, PT and drawing periods in the timetable. The meet was attended by 5 teachers and 20+ parents.
Sweater Distribution : As a part of by our Basic to Basics program Sweaters were distributed among all the children of Manthan Shikshan Sanstha Academy.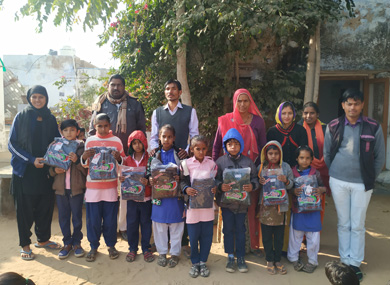 Technology Aided Self-learning Center (TASC) : Implemented on 20 th November 2019, TASC advocates the use of information and communication technologies (ICTs) for Fundamental Education. TASC was made possible with the help of people from Kerala who donated second hand gadgets to Manthan. TASC encourages the utilization of gadgets for learning. Currently, there are 12 digital gadgets involving mobile phones, laptops, tablets and desktops. IT period wherein basic of computing will be imparted is now a part of Manthan/s timetable.
Smart Classroom : It is useful to provide an interactive mode of learning through audio/video lessons. Smart classrooms help organize screenings of academic topics, educational movies and general awareness sessions using projector over the projector screen.
iPrep Digital Class : Manthan received 10 tablets from iDream Education for the purpose of providing a digital learning experience to children of Manthan Shikshan Sansthan Academy. The tablets were installed with the academic curriculum of English, Hindi, Maths, Science and Social Science for classes 1-8. A training session was conducted for teachers and class 8 students on December 14 regarding the operation of the tablets. The tablets are now a part of the classroom experience of kids twice a week.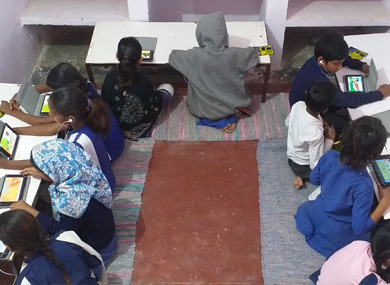 Gullak Bank : Learning to manage finances is something that every child should learn. And that is why Manthan decided to teach the importance of savings to the students of Manthan Shikshan Sansthan Academy by collecting their money in a common Gullak. The amount of money given by each student is recorded. Each student also has a personal account in the bank. The idea is to help them save money regularly so that they can use it after school for their higher education. The students have been pumped up about the initiative and have participated actively.
The Open Door Project – Manthan Library : The Open Door Project started an initiative in May 2019 which resulted in the creation of Manthan's library. Housing a multitude of books and magazines pertaining to a variety of genres including fiction, biographies, comics and encyclopedias coupled with the presence of games and art materials, the library is a treasure house of knowledge and fun for the school kids. The library currently houses more than 750 books and daily newspapers, out of which Pratham organization has contributed more than 100 books. The initiative has been a huge success and library has become an important shared space for the entire community.
Malala Program : Manthan Sanstha collaborated with Barefoot College, Tilonia to institute the Malala program. The program primarily aims to motivate girls to join school. However, other pressing issues such as child violence, child labour, child marriage, sexual exploitation, gender equality and child smuggling are also prevalent. It is imperative to provide awareness in the villages and communities regarding these issues. Manthan provided awareness in various ways. It organized puppet show and street theatre in 4 villages and organized workshops for girls in 4 villages. It reached out to 850 people through these programs.
Super 5 Nutritional Supplement : Super 5 is a traditional nutritional supplement which is an amalgamation of five natural products- wheat, peanuts, sesame seeds, bengal grams and jaggery. The supplement is known to combat undernourishment in children and iron deficiency in women. After measuring the initial health levels of the students through a baseline health camp, the distribution of Super 5 in 2 sachets of 25 grams commenced in November 2019. The children of classes 5-8 also attended awareness sessions on general health, wellness and nutrition organized by us. A quarterly health camp was organized in February 2020 to track the improvement in health vitals of children after regular consumption of Super 5. CBC reports of the checkup were provided to the parents to show the impact of the supplement.
Sullamussalam Manthan Integrated Learning Exchange Program (SMILE) : Manthan launched an exchange programme called "Sullamussalam Manthan Integrated Learning Exchange Program (SMILE)" in collaboration with Sullamussalam Science College, Areekode, Kerala. As a part of this programme, college students from Kerala visited Manthan in February 2019 and experienced the culture and tradition of the local Rajasthan communities. The exchange programme also gave an opportunity to standard 8 students of Manthan Shikshan Sansthan Academy to visit Kerala and experience the beauty and culture of "God's Own Country". The 15-day trip in October 2019 added a new dimension to their educational experience and gave them a memory of a lifetime.
Bridge Courses
Bridge courses are designed for children who had left school midway owing to various reasons and wish to continue their education after several years. Rejoining school offers multiple challenges for these children and this is where bridge courses help. These courses help them catch-up with the academics and prepare them for primary level exams. The six-month residential course provides basic academic training as well as vocational training in stitching, embroidery, candle making, assembling and repairing of solar lanterns and carpentry. Till date, Manthan has conducted 2 Bridges courses for around 70 children from 20 villages.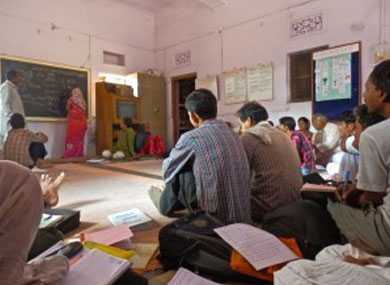 Competition Coaching
Manthan prepares the students appearing for local government service exams through its six-month residential competition coaching courses. It also provides books, newspapers and other resources to aid their preparation. Till date, Manthan has conducted around 4 such courses and more than 100 students from nearby villages have been benefitted.
Vocational Training
Vocational training courses are aimed at young children who are forced to leave schools after finishing their primary education. These courses help children develop new skills, making them self-reliant and reducing the dependency on labor industries for employment. Being self-employed helps them to improve the economic condition of their families. Manthan has conducted 6 courses for sewing, carpentry, cement jalis making, electrical works, candle making, solar engineering and water testing with the help of people engaged in these professions. Around 150 boys and girls have benefitted from these training programmes.