Manthan is a non – profit organization based in rural area of Ajmer district, Rajasthan. It was started in 1998, prior to which it was a field centre (1981-1997) for the Social Work and Research Centre (SWRC) at Barefoot College, Tilonia. Manthan works on diverse local issues related to Sustainable Development along with empowering marginalized and excluded communities in 120 villages of Ajmer and Nagaur districts, Rajasthan, India.
While working in the community for education, organization recognized that water was the main basic need of the community as the areas are surrounded by Sambhar Salt Lake due to which ground water is salty & also they required awareness about other issues of community. This has resulted in excessive pressure on the existing ground water resources. Besides this major issue, communities also face severe social, economic, political and other environmental challenges.
Considering these challenges, Manthan works on issues related to water conservation, health access, education facilities, energy and provision of basic amenities through the Back to Basic Program. The main philosophy of the organization is to bring about equality and equity through a rights based and needs based approach. Through this approach, Manthan hopes that the marginalized and backward communities will be empowered to join mainstream society.
Manthan Sanstha is located in Kotri village, Roopangarh Tehsil, Kishangarh Block, Ajmer District, Rajasthan, India. Most of the villages are on the banks of the Sambhar Salt Lake. We largely work in villages of Ajmer and Nagaur districts. These areas face severe environmental challenges along with other social, economic and political issues.
Tejaram Mali (Coordinator)
"We keep saying that we must spread awareness about issues that matter to the world but the people who suffer do not need awareness, they are most aware ones because they are the ones going through it. What they need is support"
Since, 1998 he is the coordinator of Manthan. He started as a night school teacher at Barefoot College, Tilonia while pursuing graduation. He also worked on the accounts and education department in the SWRC, Nallu. He worked at the education section in Tilonia where he initiated a science exhibition of everyday life in a mobile van; visiting different villages and explaining to children and adults about basic items and processes. Later on, he worked as the Education Co-ordinator and Development Coordinator at SWRC Management Group.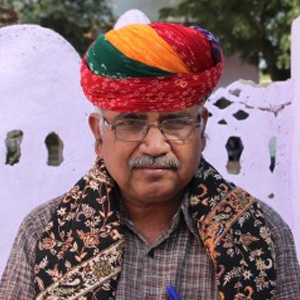 Pusaram Meghwal (Public Relations Officer; Volunteering and Water Coordinator)
Pusaram joined Manthan in 2012. He has studied till 9th standard. He was working in Barefoot College from 1984-1994. From 1995-2005 he ran a general store and tent house in village Kotri. From 2007-2012 he was the chairman of the Gram Seva Sehkari Samiti, Kotri and also the Board Member of the Marketing Society, Kishangarh.
Ms. Aprana Shahai
President
Ex-Senior Financial Adviser OTS
Ms. Seema Shrivastav
Member
Ms. Rajesh Yadav
Member
Ex-Chief election officer
Ms. Aprana Shahai
President
Ex-Senior Financial Adviser OTS
Ms. Seema Shrivastav
Member
Ms. Rajesh Yadav
Member
Ex-Chief election officer
Niyog R Krishna
AD Film Maker
Assistant Director in Malayalam Film Industry